Wheat powdery mildew is a kind of epidemic disease. It is affected by weather conditions. In the spring with more rainfall, especially in years with more rainfall, the disease will become popular. If we encounter the more uniform distribution of the rainfall at the late growth stage of the wheat and the temperature is low, the epidemic period of powdery mildew will be prolonged and the condition will be aggravated. The group is too big, and the wheat field with excessive nitrogen fertilizer application, especially the large-scale planting of susceptible varieties, is very susceptible to epidemics. In winter, conidia and latent mycelia form overwintering in host tissues. When the temperature and humidity conditions are appropriate in the second spring, the mycelia will be contaminated by conidia. It was pointed out that the continuous rainy weather this year and the large-scale planting of susceptible varieties Shixin 733 and Shixin 828 are the potential threats to the epidemic. Therefore, it is hoped that the relevant departments at all levels must be highly valued, and that they can be viewed, organized and launched in time to control the white powder. The epidemic is happening.
Symptoms: The main damage to the leaves, in severe cases can also damage the leaf sheath, stems and ears. From seedlings to adulthood can occur. In the early stage of the lesion, filamentous white moldy spots grow. Afterwards, the surface layer of the mold layer gradually thickens and becomes villous. The color gradually changes from white to gray, which is the conidiophore and conidia of the pathogen. Scattered black dots in the later period, that is, the sexual advance of the bacteria, closed shell.
Control methods: (1) Agricultural control. According to variety and fertility, sowing should be reasonably arranged at the time of sowing and the sowing date should be delayed. The control group should not be too large, and the application of phosphorus and potash fertilizers should promote the growth of wheat. (2) Chemical control. When the diseased leaf rate reached 15%, use Triadimefon spray to control, use 15% triadimefon 100 grams per mu, or 12.5% ​​loquat fruit per mu 30 grams, 50 kg water evenly sprayed.
For regions and wheat fields with severe disease incidence in autumn, use triadimefon for seed dressing. After pouring spring water in spring and combine with herbicide spraying, add 1 gram of active ingredient of triadimefon to the water evenly to prevent powdery mildew and reduce the incidence of disease in early spring. Speed ​​and strength.

This is Jining Fuyuan Fruits and Vegetables Co.,Ltd, is specialized in supplying and exporting fresh fruits and vegetables from China.nanfeng country of jiangxi province of china is the only country of origin of abundant mandarin orange of the south and main producing region,,has had a history of more than 1300years already,there is the area of culture now 1,500hectares,annual production is 1,000,000tons.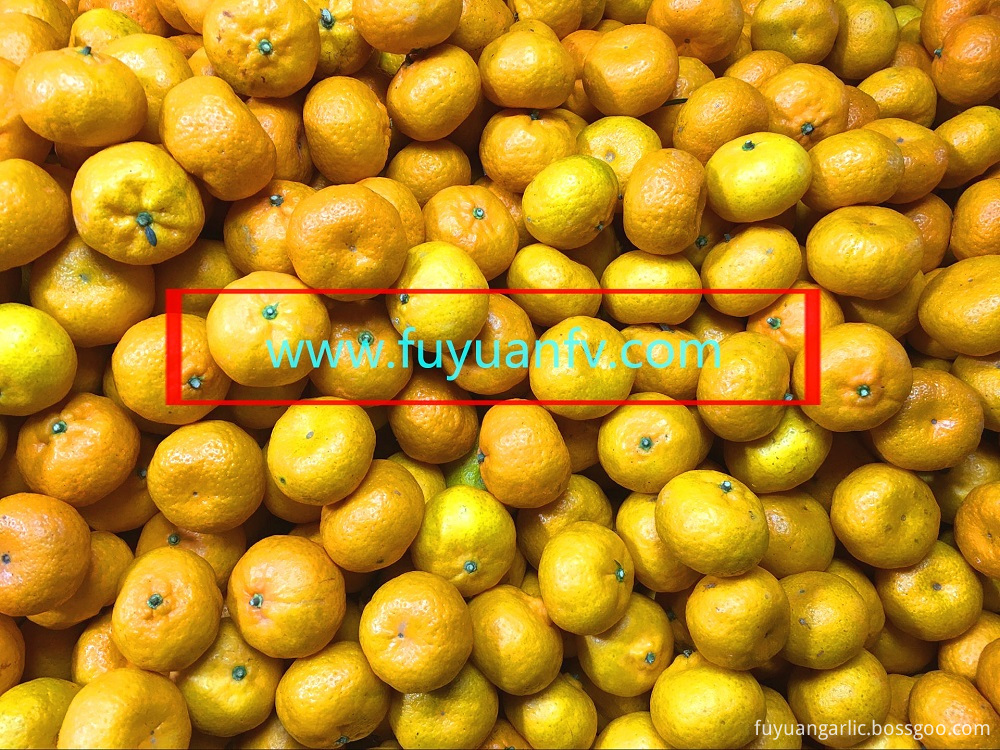 Name

Nanfeng Baby Mandarin

Size

S 3.5-3.8cm

M1 3.8-4.0cm

M2 4.0-4.5cm

L 4.5-5.0cm

XL 5.0-5.5cm

Sharp

sweet.seedless and juicy

Origin

nanfeng,jiangxi,china

Supply period

from October to next May

Fresh season: From September to November

Cold storage season: November to next January

Packing

inner packing :1kg net weight / mesh bag

outer packing :9kg net weight/ carton

Delivery time

5-7 days after got buyer's deposit

Quantity/conveyance

25.2MTS FOR ONE 40RH CONTAINER

Payment Terms

L/C,T/T,

MOQ

1X40`HR

Shipment port

Shenzhen Port of China
Fresh Baby Mandarin,Fresh Mandarin,Fresh Mandarin Oranges,Mandarin Fruit
Jining Fuyuan Fruits And Vegetables Co., Ltd. , https://www.fuyuanfv.com